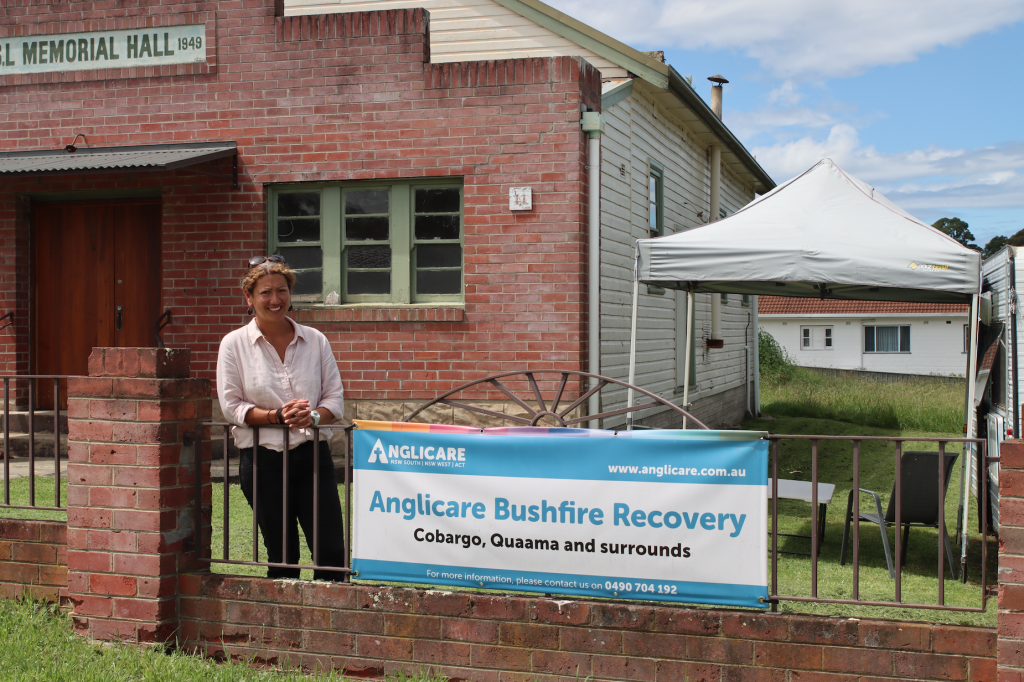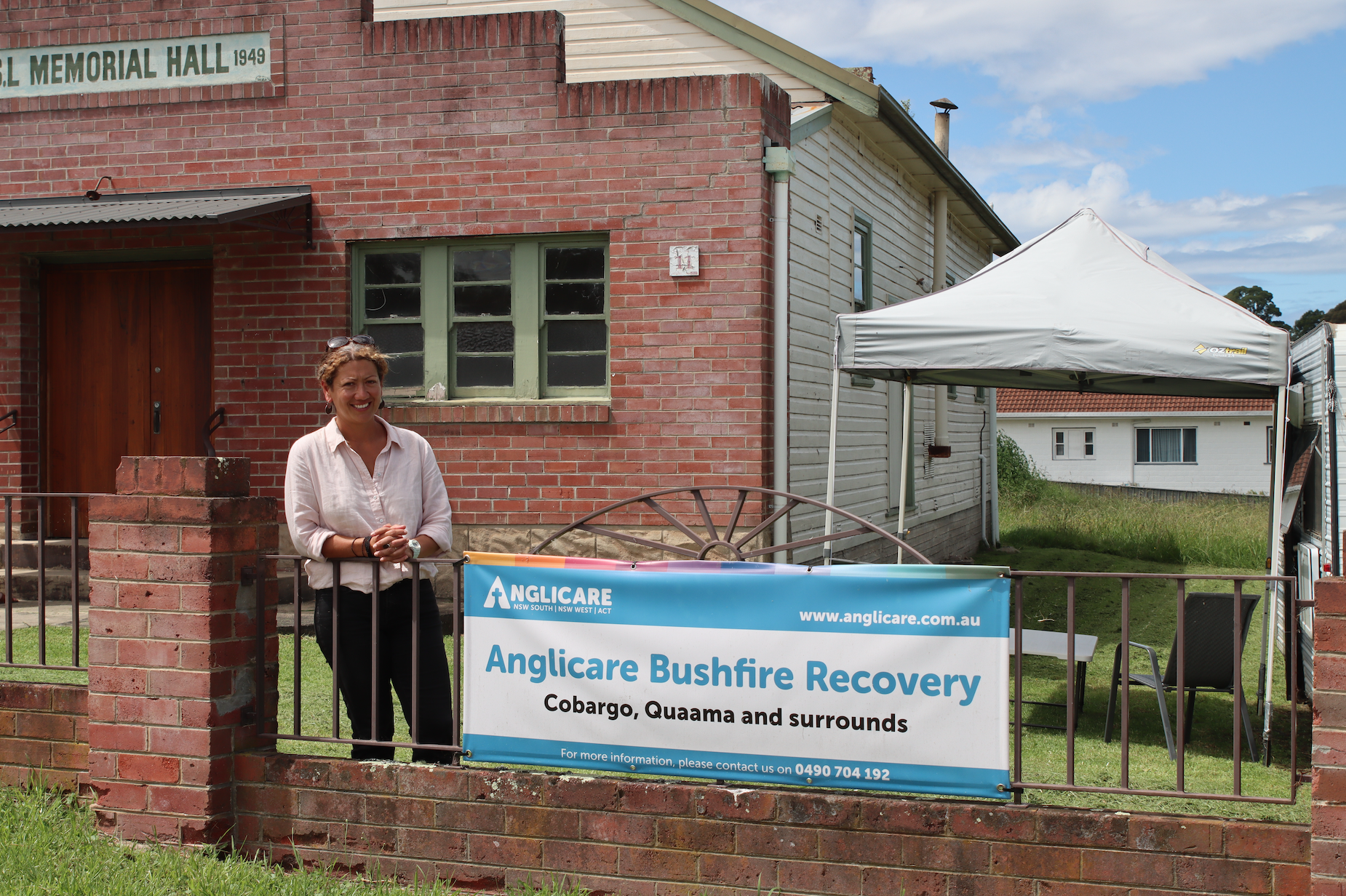 This year our Easter Appeal
is a little different
This Easter, we're focusing on these brave and resilient families still affected by the bushfires, and the courage shown by communities as they embrace a different future.
This time last year much of the region covered by our Anglicare services had been engulfed or threatened by the Black Summer Bushfires. The plight of many of those survivors was then swallowed up in the magnitude of the global COVID-19 pandemic.
For many fire-affected families, rebuilding and recovering will take years.  As an Anglicare team, we'll continue walking with people and helping them to access the support they need.
To under stand the experiences of those living in these recovering communities, we're inviting you to hear directly from one of our Bushfire Recovery Coordinators, Carlin Standford.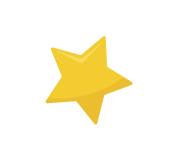 About Carlin
Carlin Stanford moved to the Cobargo region with her husband and daughters in 2008.
Twelve years later, during the biggest bushfires in living memory, Carlin became a key person in her local community helping people to heal and recover.
Carlin was employed as one of five Anglicare Bushfire Recovery Coordinators across the region; a challenging task made even more difficult because of COVID-19.
The sections below have been written by Carlin.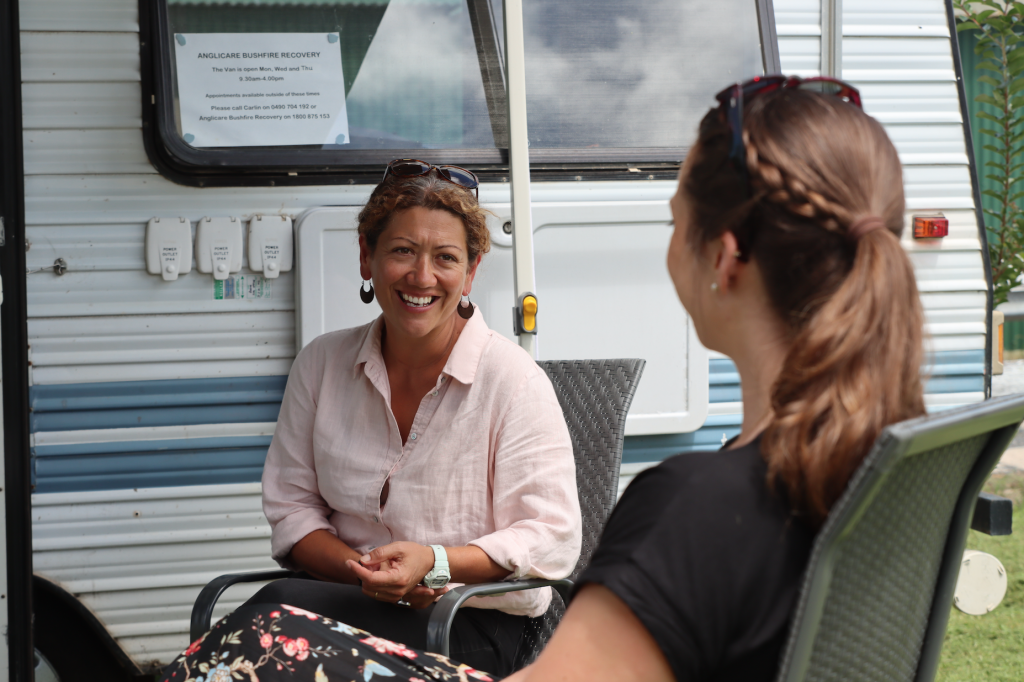 Relief & Recovery
"Shortly after the fires, Anglicare began looking for a Bushfire Recovery Coordinator specifically from the local area. I have a military background, qualifications in management and a deep connection to and compassion for the local community. This how I came to be employed by Anglicare in February 2020.
I started working out of a caravan on Cobargo's main street, which is where I continue to work today.
Initially, I contacted people I knew had been affected. I travelled to their properties, driving up and down dirt roads to assure people that I was always available. My days consisted of sitting with people and listening to their stories, helping with grant applications, and providing referral assistance for those dealing with loss and trauma.
I had regular visits from elderly people who can't email or don't have a smart phone. I travelled to the property of an 80-year-old woman who hadn't received any help from the other providers because she couldn't provide photographic evidence. When I asked if she had any photos of the damage she said to me, "Yes dear, but I just can't find anywhere to get the films developed".
I adopted the philosophy of no wrong door and helped with anything fire related."
Building Connection & Trust
"The Anglicare van became known as a place to go to get help. This included help with forms and applications, interactions with council, and even allowing people space just to talk through their sadness.
I worked on establishing a healthy relationship with mental health counsellors, recovery officers, case managers and community connectors. As the town is quite small, I could observe people from my van and make a note if certain people hadn't come to town for a few days. I'd make sure I'd check up on them.
I was approached one day by a local business owner asking if she could bring someone over who she feared was at a stage of self-harm. 'You can,' I replied, 'but I'm not a counsellor'. She said, 'Yes, but you're the only one here, so you're the best we've got'.
I felt sad hearing this. The particular man did have access to a Bushfire Clinician over the phone but his next appointment was in 10 days. He didn't think he would be able to wait that long. This incident prompted me to contact NSW Health to arrange for a counsellor on site to assist with our service."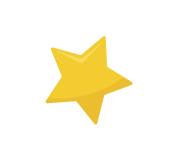 Many communities are still suffering, and you can directly
support them by making a donation today.
Into Winter
"With the wonderful support of Anglicare's generous donors and organisations such as GIVIT, we were able to provide very high quality doonas and covers to the most vulnerable. I was amazed that an item which costs less than $300 would be received with such heart felt gratitude. The doona was a reminder that people cared for them. Distributing the doonas also allowed me a reason to check in with people. Some days I came upon people who were doing okay, and other days I was glad to be able to stay and chat.
We received a donation from a local community member who wanted the money to go where it was most needed. We were able to purchase down jackets and distribute them to people still living in tents and caravans.
"People who would never dream of spending hundreds of dollars on a single piece of clothing, were totally surprised at the difference a jacket like these could make. This generosity brought many people to tears with gratitude."
Long Term Impacts
"The recovery landscape is becoming more complex. Those few families who have managed to rebuild their homes, now face the new challenge of having the capacity to deal with the full impact of the fires on their mental and emotional wellbeing.
Other people are 'not quite homeless'. Some were forced out of their rentals as rates increased to make way for holiday makers on the South Coast. One lady who lost everything and lives alone had to move from the powered site at the caravan park to the unpowered area as the rent being charged at the powered site was too expensive. The shame she felt from this shift in circumstance was extreme.
One family with two children under three years of age had to leave their rental home on 31 December. When I asked if they had a plan they responded, "We've had heaps, but they all fail. I think were snookered."
Families are still trucking in water and digging holes for their ablutions. There are often line ups at the showground as people wait to shower and wash their clothes. Donated or purchased caravans are leaking, and becoming affected by mould. People are struggling to leave their properties and face the reality of a house-build which may have doubled in price and is now unaffordable.
The ongoing stress is contributing to family breakdowns, and decades-long marriages and partnerships are deteriorating. Difficulties in obtaining supplies and accessing tradespeople has meant some rebuilds can't start until 2022 or later.
And I can't even go into the full details of the added impact of COVID-19."
Your donation will allow Anglicare to continue to employ and equip
local people like Carlin to provide support to their community.
Community Led Recovery
"Community-led recovery is one of the best approaches following a traumatic event such as the fires. But this relies on community members being strong enough to lead. One year on, many people are finding that they are no closer to rebuilding. Instead, they've endured 12 months of hard and costly living which have diminished their dreams of owning a new home. They are tired.
The aims of our work has been to overcome the stigma of mental health problems and encourage people to connect with professional support. I've worked collaboratively with a counsellor and established 'wellbeing workshops'.
Our first group was women affected by the fire and within three days of advertising, the workshop was fully booked. After the workshops, the 12 women formed strong new friendships and began providing practical support to one another such as giving lifts to hospital for checkups, gardening, or catching up for a coffee, a walk or a swim. Many of the participants also started receiving professional face-to-face counselling following the workshops."
By supporting Anglicare's Easter Appeal today, you'll help us continue to employ and equip people like Carlin as they keep reaching out to communities in recovery.
Final Note From Carlin
"Community-led recovery still needs ongoing support from organisations like Anglicare.
The support provided by Anglicare is visible, tangible, and real. Most importantly it provides a clear message that people still care. It gives faith to families who are hurting.
My hope is that support can continue so that this community and many others, though changed by these fires, can recover and become even stronger than before."
By supporting Anglicare's Easter Appeal today, you'll help us to continue to employ and equip people like Carlin as they keep reaching out to communities in recovery.