Creating Brighter Futures For Young People in Care – Harley's Story
Eighteen year old Harley is a top student who has recently enrolled at the University of Technology Sydney. He has also lived in Care for over 10 years.
Harley's future looks bright and is a testament to both his own hard work and the love and support he received from his foster carers, Shirley and Vera.
"I was 7 when I transitioned in to Care," says Harley. "And while the hardest part about being in Care is being separated from your biological family – it's a confusing thing for a young child to go through – but the best part, at least for me, is that I got a second family. Shirley and Vera cared for me and made me feel like I had a home."
"..the best part, at least for me, is that I got a second family. Shirley and Vera cared for me and made me feel like I had a home."
Unlike many other children, Harley remained with the same permanent carers for the entire time he was in Care. He says that it's this stability that helped make life so much easier. It also made the transition out of Care easier too.
"St Saviours* staff have always been positive and supportive and prepared me for leaving Care. And knowing that I have a home with Shirley and Vera means that I'm not worried about the future but I'm excited," he says.
Having completed his HSC and winning a scholarship to study Information Technology, Harley is now enrolled in a Bachelor of Information Technology and Diploma of Professional Practice. He also has lined up a part time job so that he can support himself as he finishes his studies. His plans are to work in network security or as a systems administrator.
Congratulations Harley!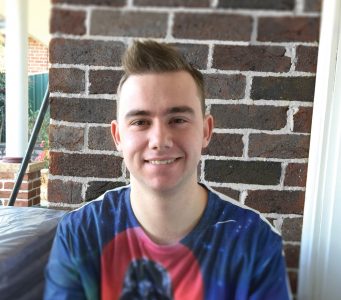 Long-term carers like Vera and Shirley, who foster a number of children and young people, help create brighter futures for young people through providing a loving home environment.  Most importantly, they allow young people to have a future that is no longer overshadowed by fear and uncertainty.
Anglicare seeks to ensure all children and young people have a place to call home, not just for now, but for the long term. By providing a permanent Care placement, you can help us create the best outcomes for our children and young people.
Ever thought about welcoming a child or young person into your family?

Foster carers are everyday people who have a heart to help children and give them a future full of hope.
To find out more about becoming a Foster Carer with Anglicare – CLICK HERE.
*St Saviours is an Anglicare NSW South, NSW West and ACT service located in Sydney, NSW.