---
Anglicare manages a number of retail recycling stores that sell quality recycled clothing and household items at affordable prices. Profits generated at our retail recycling stores are used to support the work of Anglicare and to support the outreach of the Anglican Church.

The original Anglicare Retail store is located in the heart of the busy Queanbeyan shopping area. The thriving store is run by a fantastic team of paid staff and volunteers.
The popularity of recycled clothing stores continues to grow as savvy shoppers seek affordable prices and enjoy the vintage shopping experience at Anglicare Retail. The surge in sustainable shopping prompted the opening of Anglicare's second retail store in Phillip in mid-2016.
In early 2017, the Anglicare Retail opened a new store in Fyshwick with a new Sorting Facility increasing our capacity to process goods and provide high-quality, budget-friendly clothing options to the community in the Canberra/ Queanbeyan region.
In February 2018 will celebrated the opening of our first Northside store at Jamison Centre! In just a few short weeks, the store had already become a thriving hub bringing the community together and giving work opportunities to many who were struggling to find employment. We love Anglicare Retail!
Declutter your wardrobe, support the work of Anglicare!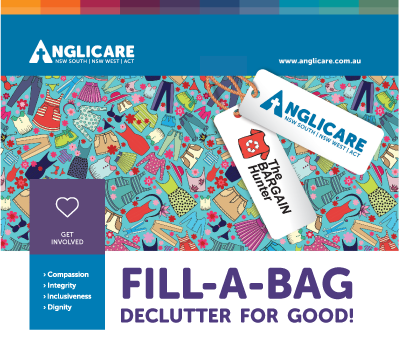 When you donate good quality clothing that you no longer need, you are helping Anglicare raise vital funding for our programs.
The programs Anglicare provides care, support and practical help to the most vulnerable members of our community. We really need YOUR help to provide these services in our community.
So, what can you do to help?
Contact us today about organising a clothing collection in our workplace, school or community group.
Email kaye.pritchard@anglicare.com.au or call 0419 241 282
Click Here to see the Anglicare Retail donation bin locations
Anglicare Retail Queanbeyan
, 170 Crawford St, Queanbeyan
Anglicare Retail Phillip, 41-43 Colbee Court, Phillip
Radford College, inside the college campus
St John's Anglican Church, outside St John's Care, Reid
St Luke's Anglican Church, 44 Newdegate Street, Deakin
Holy Covenant Anglican Church, off Redfern Street, Jamison
St James Anglican Church, Beaurepaire Cres, Holt
Calwell Childcare Centre, Were St, Calwell
Anglicare Retail Fyshwick, 
8 Wiluna Street, Fyshwick
Anglicare Retail Jamison, Unit 2/3 Jamison Centre, Macquarie
Chapman Shopping Centre, Perry Drive, Chapman
Good Shepherd Anglican Church, Carruthers Street, Curtin
Holy Cross Anglican Church, Hackett
Giralang Anglican Church, Georgina Cres, Kaleen
St George's Anglican Church, 67 Petherbridge Street, Pearce
Canberra Girls Grammar School, inside the grounds near the Chapel
Want to volunteer?
The Anglicare Retail stores in Fyshwick, Jamison, Phillip and Queanbeyan are urgently seeking friendly and passionate volunteers to help in the stores on a casual basis. Volunteering opportunities are flexible and can involve a few hours once a month, or a full day on a weekly basis.
To find out more, click the button below or speak to the friendly team at Anglicare Retail.
Parish-based stores
Anglicare also supports a number of Parish Partnership shops in Canberra and across regional NSW.