---
Engaging with individuals and other community organisations is an important aspect of Anglicare's work. Anglicare has worked alongside a number of other community organisations including Soul Survivor ACT & Regions, Scripture Union and 1WayFM Radio. Anglicare also has long term, ongoing partnerships with organisations such as St John's Care in Canberra. We are passionate about working with the community, for the community.
How can you work with us to help tackle poverty in our community?
Volunteer
Pantry Appeal
Fundraise
Pray!
How We Can Help:
Speakers: Want to know more about poverty and helping others? Anglicare has a number of speakers who can present on a wide range of topics to coincide with your community event, camp or program. These include (but are not limited to):

Food insecurity
Poverty and hardship (including hidden poverty and localised poverty)
The Anglicare Pantry Appeal
Homelessness
Faith in action

Partner: Looking for a way to give back but don't know where to start? We can provide opportunities for you or your group to partner with our programs. This can be a once off arrangement or an ongoing partnership. Anglicare has a number of services which have benefited from the time, enthusiasm and expertise of community groups and individuals. If you are looking for a practical way to make a difference in your community, we'd love to hear from you!
Faith in Action – Soul Survivor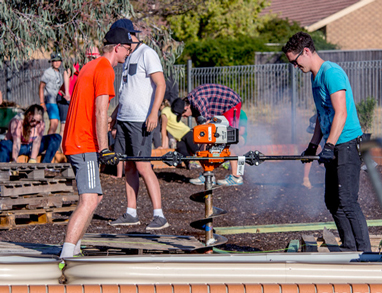 2 days/6 locations: How 200 young people gave Anglicare a makeover
Throughout the April school holidays, over 200 young people attended the Soul Survivor 'More than a Song' camp conference in Canberra.
Anglicare was a partner of the event, which saw young people express their faith in action by supporting Anglicare's services through gardening, painting and cleaning projects over two afternoons.
"We were so excited to partner with Soul Survivor and see the enthusiasm of the young people to express God's love in action," said The Revd Dr Ian Coutts, General Manager Mission & Community Engagement.
A number of Anglicare's services underwent transformation, including Disability Services in Holt, Calwell and Gordon Early Childhood Centres, Brindabella Court and St David's Close Retirement Villages, and the St Benedict's Community Day Centre in Queanbeyan.
The campers assisted the residents at St David's Close with gardening, car-washing, and a mammoth landscaping project. "The students are to be congratulated for a magnificent job that is greatly appreciated by Anglicare, St David's congregation and village residents," said Retirement Villages Manager John Vilskersts.
"Their motivation, attitude and willingness brought a lot of cheer to the villages."
Meanwhile Disability Services in Holt received a complete sensory garden makeover.
"We are so thankful for the work of Soul Survivor. Our outdoor area previously didn't meet the individual needs of the people we support and wasn't reaching its full potential" said Margaret Hennessey, Coordinator in the Community Holt Disability Services.
"Now the outdoor area looks great! Our clients loved working alongside the campers and they now have ownership of their space" said Margaret.
Contact Us
If you are interested in volunteering and work experience opportunities at Anglicare, please contact our Volunteer Coordinator via email volunteers@anglicare.com.au