Mission + Community Engagement
---
Anglicare's partnership with the Anglican Church extends to local parishes in nearly every community across our region. This partnership with 110 churches across the Anglican Diocese of Canberra/Goulburn, Riverina and Bathurst, enables us to deliver volunteer-led programs into rural and remote areas and work together towards our common mission.
Anglicare was founded upon the legacy of Mother Esther who established the Community of the Holy Name in Melbourne in 1888. For more than 50 years the Community operated soup kitchens, mother's groups, children's homes and hospitals in Victoria. In 1929, a residential home for girls was purchased by the Anglican Church of Goulburn and run by two sisters from the Community of the Holy Name. This was the beginning of Anglicare NSW South, NSW West and ACT.
From the outset, Anglicare's mission has motivated by our calling to live by Jesus' example to respond to human need by offering loving service and seeking to address injustices in society.
Anglicare Sunday
Anglicare Sunday is a chance for you and your church to partner with Anglicare in our mission to break the cycle of intergenerational poverty for children, young people and families.
On Sunday October 21, we're inviting Anglican parishes and other churches to host Anglicare Sunday to encourage your congregation to be involved with helping people in your local community. It involves speaking about the work of Anglicare, showing videos of our client's personal stories and sharing the ways people can support the work of Anglicare.
Prayer Diary
"This prayer diary is designed to help you pray for Anglicare services and particularly for the people involved. You can use it in your own private prayers, or as a church. It works on a daily basis for a monthly cycle, or you can choose your own way of using it." Rev'd Dr Ian Coutts. Anglicare, General Manager – Mission & Community Engagement.
"As we seek to follow the example of Jesus Christ in providing healing and care for those in need, prayer helps us to move forward with wisdom, discernment, creativity and expectation." Jeremy Halcrow, Anglicare, Chief Executive Officer.
You can apply for a PDF copy or hard copy of our prayer diary by clicking below.
No Interest Loans Scheme
The No Interest Loans Scheme (known as NILS), is an initiative to support people on low incomes to overcome times of financial hardship.
NILS is offered as small loans to people who are unable to access mainstream credit. This money can be used to purchase necessary household items such as furniture and white goods as well as other essential services such as dental and optical care. Loans through NILS incur no interest and no setup fees. Clients are only required to repay what they owe.
You can partner with us by promoting NILS in your church and local community.
How can we tackle the poverty that people experience in our community?
Anglicare works in partnership with churches to deliver programs which enable families and their children to break free from the cycle of poverty. These partnerships are known as 'Survive and Thrive' hubs. Each partnership looks different and is tailored to the resources of the church and Anglicare, and also the needs of the community. Some of the programs which can be offered in these hubs include (but are not limited to):
Supported playgroups
Parenting programs
Financial literacy programs
Emergency food relief programs
These are already being run in partnership with churches such as St John's Care in Canberra, Wagga Wagga (Ashmont), Eden and Parkes and we'd love to partner with you too.
Ways you and your church can help your community:
Volunteer
Pantry Appeal
Out of Home Care
Donate
Pray!
You do not have to be an Anglican church to work with us!  
Don't know where to start? Talk to us about how we can make a difference together.
How We Can Help:
Speak to our team today about how we can support your church to help people in need. We have a number of opportunities available for you and your church:
Preaching: Do you have a week without a preacher? Looking for a fresh perspective? Anglicare's Rev'd Dr Ian Coutts is available by appointment to preach at your church. We can discuss the topics at length with you prior to the day.
Speaking: Anglicare is the mission arm of the Anglican Church – we should be talking more about our wonderful history and work together! Do you want your church to know a little more about Anglicare? Our team are more than happy to visit your services to briefly talk to your congregation about the work of Anglicare and ways to get involved.
Coffee/chat – We love meeting, encouraging and getting to know the people in our churches across ACT and NSW. If you're interested in simply catching up over coffee, hosting an 'ask Anglicare' event or would just like to have an informal chat, we'd love to hear from you.
Faith in Action – Georgie's Pantry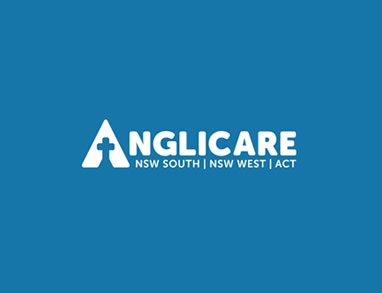 Anglicare, Parish and Community make long-lasting difference to those in need.
Georgie's Pantry; a joint initiative between Anglicare and St George's Parish in Parkes NSW, supports hundreds of people every year by providing emergency assistance to those in need.
The Pantry is supported by local businesses and is run by a dedicated team of volunteers, over half of which attend St George's Anglican Church. However, some of the volunteers come from a very different background.
Over the course of six months, Natalie (the manager at Georgie's Pantry) and her team of volunteers assisted two clients who were struggling to make ends meet and have enough money for food. The clients were regulars of Georgie's Pantry and they attended the weekly Thursday lunches held at the facility.
"The weekly lunches are a great way for us to get to know the clients better and hear their stories" says Natalie.
The clients were so touched by the support they received, that they wanted to give back. Now, both clients are volunteers for Georgie's Pantry and also attend St George's Anglican Church.
"Our new volunteers assist every Thursday, they prepare the fruit and vegetables in the morning, stack the shelves and provide support to clients who are in the position that they once were" says Natalie.
"We are incredibly grateful for our all volunteers and could not continue supporting so many people without them."
Georgie's Pantry is part of Anglicare's Survive and Thrive services and is open on Thursdays.
Contact Us
To find out more about church partnerships and getting your parish engaged in supporting the work of Anglicare, call (02) 6245 7119 or email Justine.Slockee@anglicare.com.au.