---
Recognition of Prior Learning
Anglicare College recognises the skills, knowledge and qualifications that students have gained through prior formal or informal learning. Recognition of Prior Learning enables students to be exempt from some units of study within nationally recognised qualifications.
To qualify for Recognition of Prior Learning, students need to undertake a formal assessment where current skills and knowledge are compared to the requirements of each relevant unit of competency. An assessor will consider your evidence of;
Paid or unpaid work in Australia or overseas
On-the-job training
Other qualifications earned in Australia or overseas
Community or voluntary work
Hobbies, sport or leisure activities
If you wish to apply for Recognition of Prior Learning, please email learning@anglicare.com.au
Click here to view the NSW Schedule of Fees
The 2018 Schedule of Fees for NSW is currently under review and will be uploaded in the coming weeks. If you have any questions regarding fees in NSW, please email learning@anglicare.com.au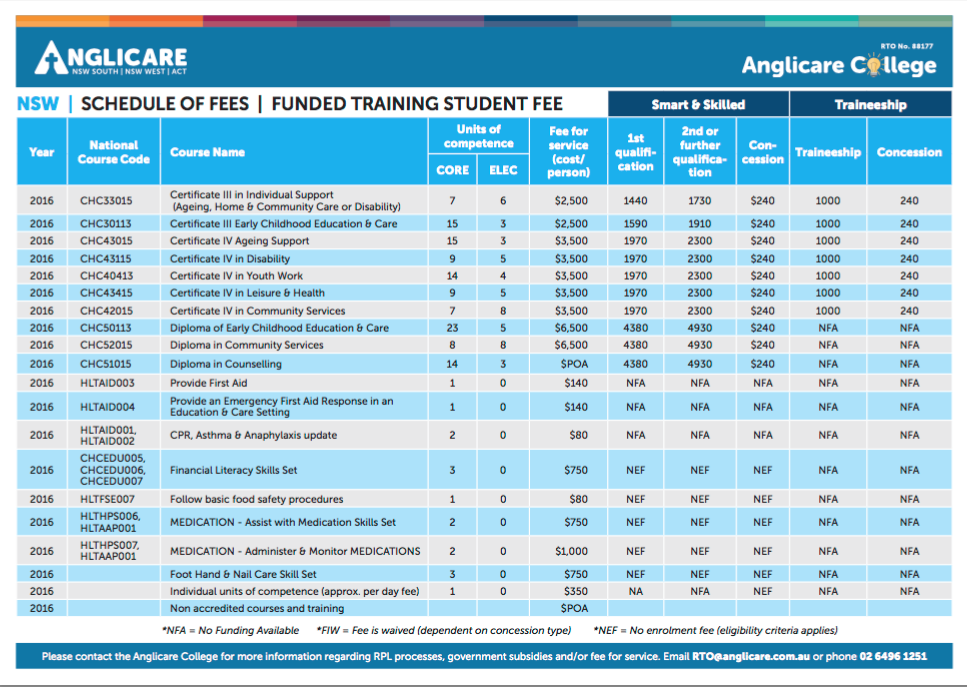 Financial Assistance
The ACT and NSW Governments provide performance-based funding to Registered Training Organisations, including Anglicare College, to reduce the financial expense of nationally recognised training.
This funding helps Anglicare College deliver training in response to identified areas of skill need. It also increases affordability for students and frequency of delivery.
Please note: students enrolled under ACT Skilled Capital program are entitled to an incentive payment upon completion of course, of between $250 and $500, depending on the qualification. Click here to find out how completion payments are processed and the answers to other frequently asked questions.
To find out more about ACT Skilled Capital or NSW Smart and Skilled, visit the websites below.
Traineeships
A traineeship allows an employee to gain qualifications while employed. Many employers who have staff undertaking traineeships are eligible for financial incentives. Speak to our team today if you would like to know more about traineeship opportunities.
Team Training
As a key service provider in the Community Services sector, we highly value skills development and training for all of our staff. We offer industry-specific training courses to Anglicare staff located across ACT and NSW.
To book training for your team, complete the relevant form below and email to learning@anglicare.com.au